Certified Professional Chef
Holistic Chef Niki
Holistic Chef Niki was founded by Niki Connor, a Certified Health & Nutrition Counselor, Nutrition Consultant, Professional Chef and vegan specializing in plant-based cuisine.
Nutritionist
Starting with a complimentary initial consultation, Chef Niki offers two customized programs, Basic and Premium, that include working in person or remotely, from nutritional analysis to detailed nutrition plans.
Chef
As your Personal Chef, Chef Niki will prepare 1 to 5 meals per day, 1 to 4 days per week. Menu is provided in advance to ensure all allergens are avoided.
Event
Luncheons or dinner parties? From 4 to 20 people, Chef Niki will provide the food and services to support your memorable event.
About Chef Niki
Niki Connor is a certified professional chef, certified Health & Nutrition Counselor, Nutrition Consultant, model, Internationally certified water judge, co-host of  'Around The World TV', and former professional athlete. Parlaying her formal health, nutrition and culinary education, athletic background, International upbringing, extensive travels, and passion for improving the lives of others, she has created a viable socially responsible enterprise.
Connor's upbringing in Tokyo, Japan and San Diego, California along with extensive International travel has inspired her to learn more about different cultures and appreciate worldwide cuisine. Her experience as both a chef and health and nutrition counselor ranges from cooking to prevent and fight diseases to working with models, Oscar-winning actors, professional athletes, families, and Fortune 500 executives. As a Health & Nutrition Counselor, Connor focuses on the mind-body-spirit connection. While Connor is a vegan, she focuses on bio-individuality with clients and creates customized nutrition programs inspired by their personal preferences to help them achieve long-term results.
After studying and working in New York and the San Francisco Bay Area as a personal chef, private chef, and health and nutrition counselor, Connor is now based in Los Angeles and is following her passion for helping heal others and the culinary arts.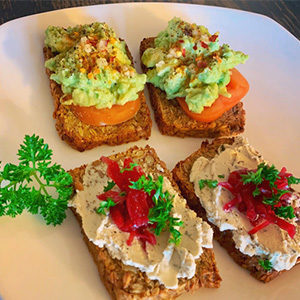 Nut and seed bread
Health is a state of mind. Wellness is a state of being.
Your health and well-being are an investment, not an expense.
Risotto
Eringi tonkatsu
Your health and well-being are an investment, not an expense.
Farmer's market salad
Roasted chipotle cauliflower steak
Red beet rice with avocado